The Problem
Vee Gee Scientific wanted to sell more X-Series Handheld Refractometers, but competition made it difficult for Vee Gee to get its message to the audience its refractometers are built for.

The Solution

Partner with Collaborating Company and Daigger Scientific to deliver an omnichannel co-op marketing campaign that gives Vee Gee Scientific exclusive access to Daigger Scientific's audience and customer relationships.

The Outcome

During the campaign, pageviews of Vee Gee Scientific X-Series Handheld Refractometers on Daigger.com increased by 704%, with comparable increases to other stats. A reduced bounce rate, dramatically increased time on page, and an explosive number of unique page views.

The campaign also had lasting effects, increasing average daily page views of Vee Gee Scientific X-Series Handheld Refractometers over the following month by an average of 427%.

The week-long campaign sold more Vee Gee refractometers to Daigger's audience than the entire previous year.
We didn't just choose a 70's theme because the rhythm finally got us. Vee Gee Scientific's name got us thinking about a popular disco music group that made everyone want to dance like Travolta. When we studied their handheld refractometers, we couldn't help but notice the bright groovy green color built right into the design.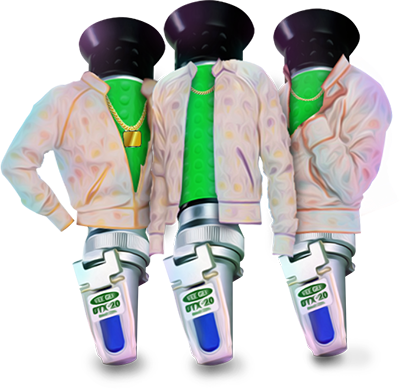 It just felt wrong not to boogie down about it.

So we ran with the idea, taking it as an opportunity to brighten up the inboxes of lab professionals and hobby users at home who were likely accustomed to dry and clinical emails that made their jobs and hobbies seem less hip than they actually were.

Vee Gee Scientific X-Series Handheld Refractometers accurately measure the water content of liquids, from battery acid to wine. They're indispensable for lab professionals looking to verify the quality of petroleum oil, and as we learned along the way, also for hobbyists and enthusiasts brewing wines and pilsners at home.

Getting instruments that made a positive impact on their passion, profession, and profit was always at the forefront of our collaborative approach. So, to really get the message out there about how Vee Gee Scientific's refractometers could change the game for lab professionals and enthusiasts alike, we took an omnichannel approach. 
The omnichannel:
The Homepage
The Pop-Ups
The Email
The Social Posts
The Search Results

The Blog Post
The Category Leaderboard Banner
The Robot

The End (and The Beginning)

This is the spot we used to get Daigger's customer base into the groove. It's the music we played so loud that even people outside the disco could hear it. We needed to capture their attention and let them know Vee Gee had the best refractometers in the house.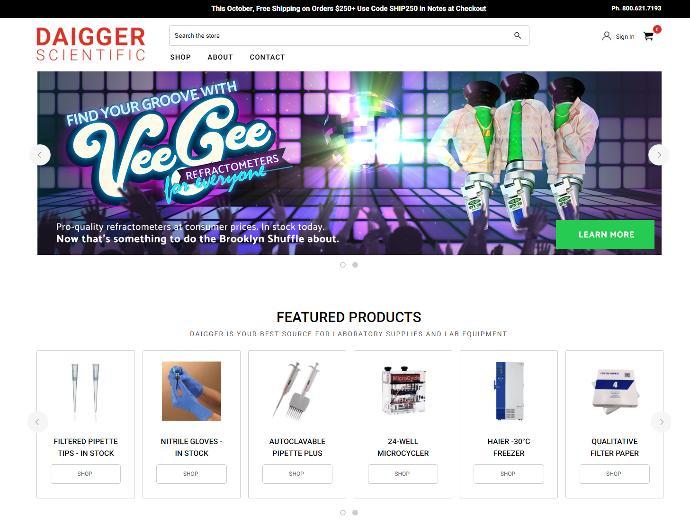 After using images of the undeniable funkiness of the product design to our advantage, Daigger saw a whopping 6,639% increase in traffic to their homepage, specifically during the two weeks we ran their campaign. Even when Daigger's audience didn't come looking for Vee Gee or its refractometers, they witnessed visuals they couldn't forget and a disco fever they couldn't sweat out.

---
The Pop-ups

We wanted Daigger's message to be heard loud and clear. That meant sharing it with every Daigger customer, even if refractometers weren't the thing they came looking for. To do this, we set up pop-ups to grab website visitors' attention on every relevant and semi-relevant page. They featured small, compelling images with short, compelling messages.

In this case, we juxtaposed the professional quality of the instrument with the approachable price point. This meant VeeGee's message got in front of an additional 232 customers during the campaign.

Pop-ups are a conversion optimization tool that: 
Encourage customers who are almost ready to buy to take a lower commitment action and move toward a sale

Help businesses grow their email lists with engaged contacts
Generate leads to provide sales reps with a solid starting point for their outreach
Increase revenue so companies can laugh straight to the bank

… by showing personalized messages based on a website visitor's behavior.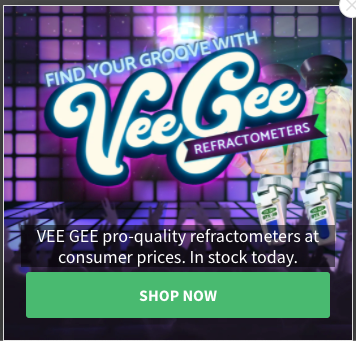 In simpler terms, pop-ups help companies make connections that matter. All they have to do is show the right messages to the right people. We decided to show the Vee Gee refractometers on any page on Daigger's site related to refractometers, period.

---
The Email

An email was written, designed, and sent out to Daigger's audience of about 40,000 people and saw a total open rate of 20.4% (9200 users), and a click rate of 10.6% (4783 users).

Whether you're trying to reach prospects, leads, or current customers, email marketing is an opportunity to speak to your customers directly. To be friendly. Personable. Human.

We never treat marketing emails as cut and dry throwaway tasks as some other marketers do. We wrote an initial email for Vee Gee Scientific X-Series Handheld Refractometers and sent it out to Daigger's audience, hoping they'd appreciate disco as much as we do. 

The way we approach email marketing isn't traditional. Rather than carefully concocting messages in a controlled environment and then sending them out into the wilderness all on their own, we stick by their side throughout their entire journey. That means monitoring:
Open rates (How many people opened the message?)
Click rates (How many people actually clicked on something?)
High click areas or click map rates (Where did the hippies click? No, we're kidding. Out of all the links in the email, which links did the audience engage with most?)
With all the data we collected within the first 48 hours of sending the first email in the campaign, we nimbly adjusted the ingredients of the recipe. It meant tweaking subject lines, adding more buttons, or rewording parts of a message.

Throughout the various changes for "the grooviest refractometer out there," Daigger saw an open rate of 29.7% and a click rate of 21.4%.

By the end of the VeeGee email campaign, Daigger saw a 2,129% traffic increase to the Vee Gee refractometer product page. And we knew it was just ramping up. 
---
The Social Posts

Part of the omnichannel approach requires compelling social media content that stands out when a user scrolls down their feed. Similar to the emails we sent out, we ran with groovy graphics for Vee Gee's refractometers, livening the (likely) banal social feeds of lab professionals.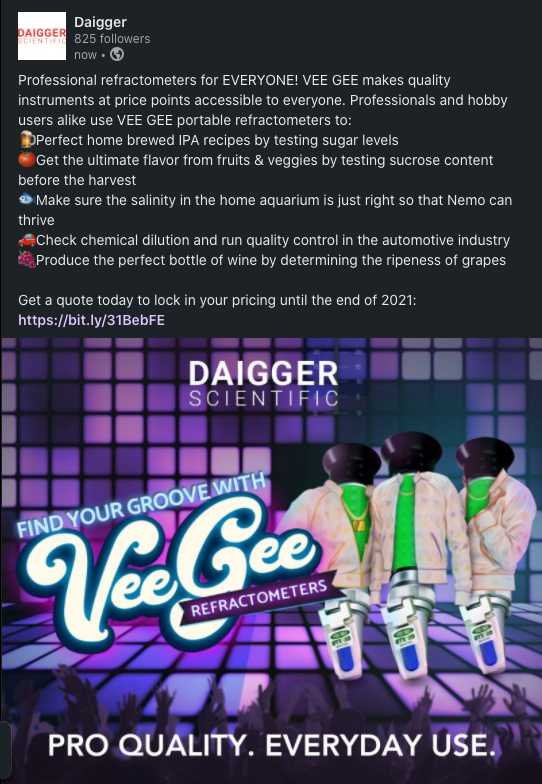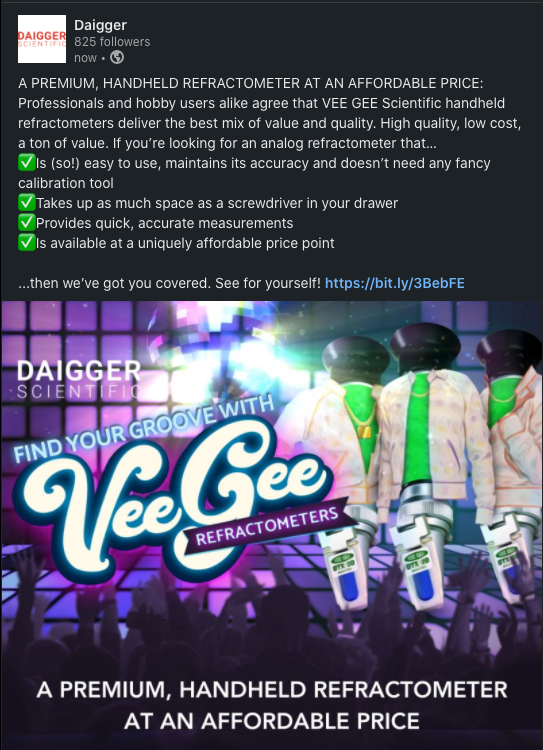 What's the main purpose of social posts anyway? We believe it's to help the right audiences see more of a brand or even a specific product. We know that social posts are just a gentle way to remind audiences that when they need lab equipment or a refractometer that'll knock their socks off, we've got their back.

---
The Search Results

We didn't want Daigger customers to have to dig too deep for the skinny. So, we put Vee Gee refractometers at the top of the search results using a search results banner. It was our way of putting Daigger's best foot forward.

We also used the search results as an opportunity to show off our hip visuals again. That's the thing about good branding - visuals are not just nice images to look at with fun words to read. If a Daigger customer saw our Vee Gee graphics in an email earlier in the week and didn't act on it, they're now reminded of how cool they thought it was the first time they saw it, likely prompting real action.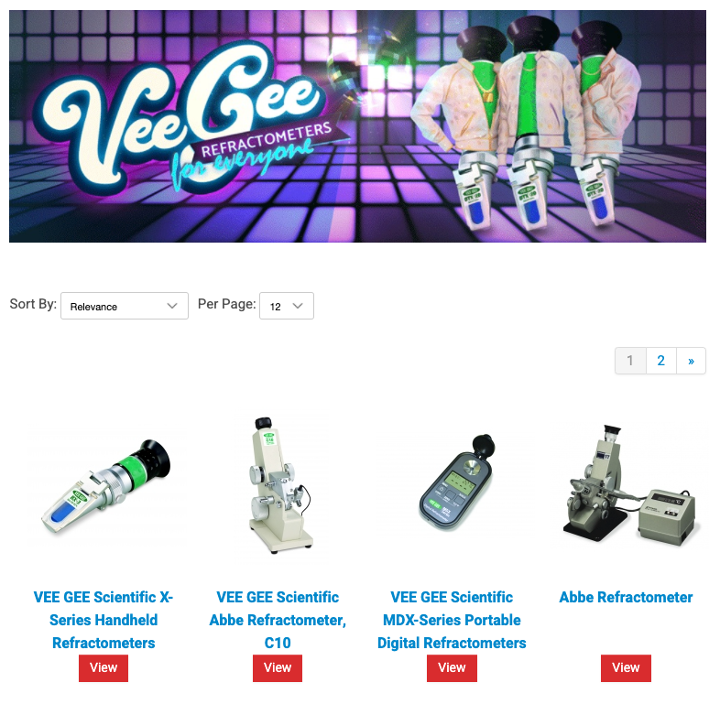 Boom - you've already built rapport with someone who may not even buy a refractometer today. But when they need one tomorrow, Vee Gee and Daigger are at the top of their minds.

Good visuals aren't just about showing how great a product or a company is. They're also a way of saying:

Hey, your cool job deserves cool tools.

People care about what you do, day-in-day-out, enough to visualize it this beautifully.

Your profession and the work you do is a reflection of this visual - a work of art.

All this consistency was good because it sparks recognition, and vice versa. Click here to see the search results live.

---
The Blog Post

Our editorial team really dug into the details with this one. They wrote a comprehensive, answers-all-your-questions, crash course blog on finding the right Vee Gee refractometer for your unique application. Think of it as the Costco of educational blogs. You don't really need to go anywhere else after this for your refractometer research.

The content within the blog is purely educational. We wanted users to learn about refractometers and what gives one refractometer a better value proposition than the next. The blog also gave us the opportunity to capture search results for all types of users, purchasers or not, to increase the overall search value of the page, which links back to the Vee Gee refractometer page. And by extension, we increase the value of the Vee Gee refractometer page, so more users are likely to end up there over the medium and long term.

To maximize the chances of being seen and heard by the right audiences, we packed the content with keywords that refractometer users would punch into Google, otherwise known as Search Engine Optimization (SEO). By making Vee Gee's refractometers on Daigger's site rank high in search engine results, we showed competitors that there's only room for one refractometer on the dancefloor - Vee Gee.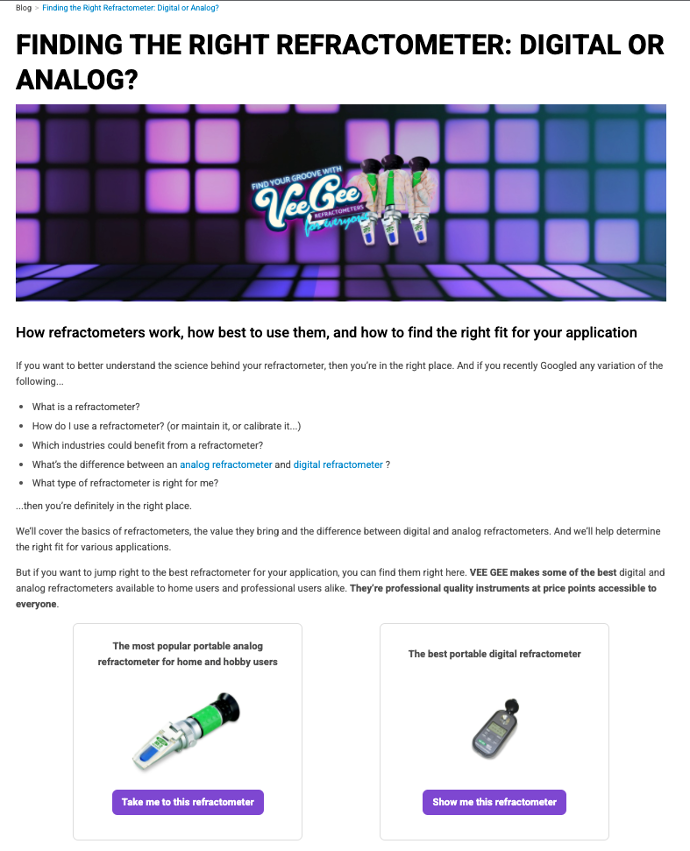 The blog post also set the perfect stage for interlinking. What's interlinking? It's when a page - any page - connects to another page using a URL. You can think of it like a spider web, slowly webbed together using various links. What does interlinking accomplish? The more links a page receives, the more significant it appears to search engines. That means when laboratory employees or wine enthusiasts search for refractometers on Google - boom! Vee Gee refractometers. Click here to read the full blog post.

---
The Category Leaderboard Banner

Depending on browser settings, not everyone sees pop-up messages. But the only place we get down about things is on the dancefloor, so we emphasized our branding on the main category page for refractometers with visuals so funky that taking up that space felt good. Kind of like wearing bell-bottoms.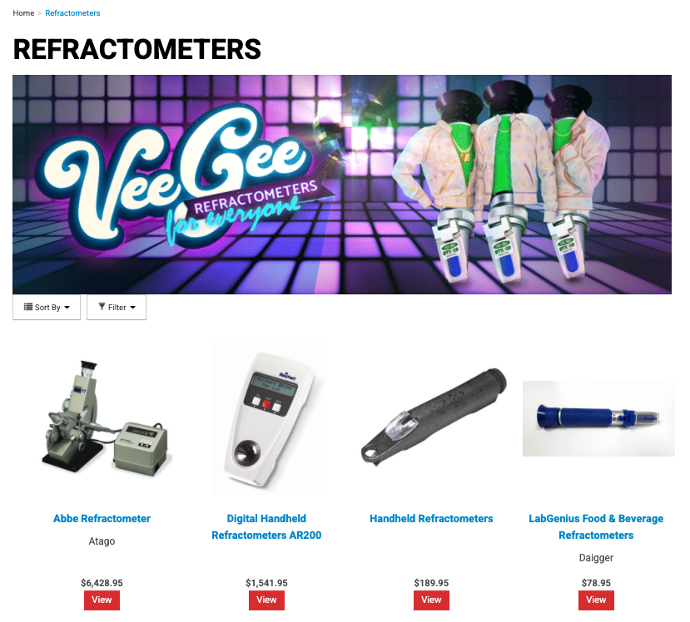 Here's the short form: a leaderboard banner is a horizontal banner across the top of a webpage. Imagine a billboard along the highway. When website visitors first land on a webpage, the leaderboard banner is the first representation of a brand they usually see. Fill that space with something great, or lose your shot at captivating your audience.

---
The Robot

We decided to incorporate an interactive AI personality into the website that allows companies to ask their audience questions and give them specific answers based on their responses. Think of her as your spirit guide. Or your dance instructor. We created this entity to help website visitors choose the right refractometer for their application, whether it was digital or analog.

To interact with her, click this link and focus on the bottom right-hand corner of your screen.

Adding unique features to Daigger's website was always part of our goal. This AI personality was a fun way to draw a visitor's attention and lead their mind down a different path, even. In the age of increasing digitization and planned interactions, having a conversation with a tiny human that pops out of your screen served as the perfect way to captivate someone. A real disco inferno moment.
We also believe in providing diverse avenues of communication. While some visitors may engage well with text, others may prefer that person-to-person interaction. Showing Daigger's customers that they have options and control when it comes to their customer experience shows them that Daigger is flexible, agile, and always willing to help their customers.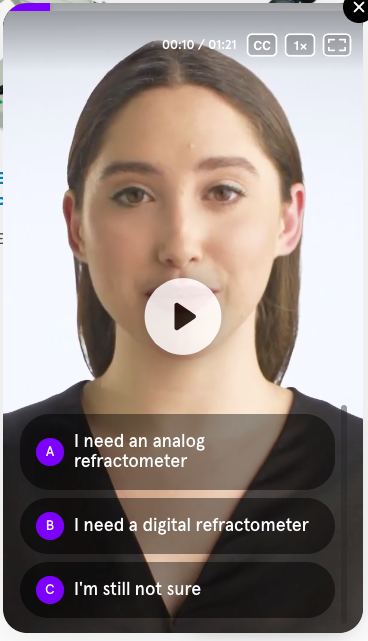 Plus, nobody on the Vee Gee team was comfortable speaking as the host of this video, so we created a 100% digital host who speaks directly to the audience. Win-win.