The Problem
Kimble wanted to sell more Hydrometers, but competition made it difficult for Kimble to get its message to the audience its Hydrometers are built for.
The Solution

Partner with Collaborating Company and Daigger Scientific to deliver an omnichannel co-op marketing campaign that gives Kimble exclusive access to Daigger Scientific's audience and customer relationships.

The Outcome

During the campaign, pageviews of Kimble Hydrometers on Daigger.com increased by 1,750%, with comparable increases to other stats. A reduced bounce rate, dramatically increased time on page, and an explosive number of unique page views.

---
The Homepage

For the week of the email campaign promoting Kimble Hydrometers, Daigger's homepage banner was updated to catch visitors' attention and bring them to the Kimble Hydrometer product page.

Our creative team had fun with the visuals, adding water and boats into the imagery to demonstrate how reliable Kimble's Hydrometers are. Whether you measure liquids in a lab or use it for brewing pilsners at home, Kimble's Hydrometers float your boat.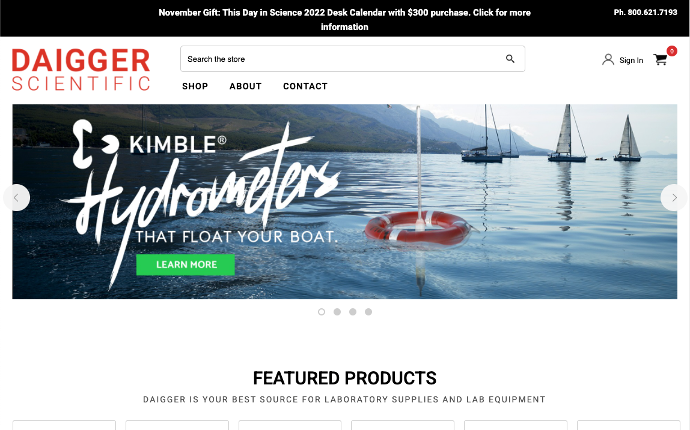 ---
The Pop-ups

We wanted Daigger's message to be heard loud and clear. That meant sharing it with every Daigger customer, even if hydrometers weren't the thing they came looking for. To do this, we set up pop-ups to grab website visitors' attention on every relevant and semi-relevant page. They featured small, compelling images with short, compelling message.

In this case, we juxtaposed the professional quality of the instrument with the approachable price point. This meant Kimble's message got in front of an additional 273 customers during the campaign.

Pop-ups are a conversion optimization tool that:

Encourage customers who are almost ready to buy to take a lower commitment action and move toward a sale
Help businesses grow their email lists with engaged contacts
Generate leads to provide sales reps with a solid starting point for their outreach
Increase revenue so companies can laugh straight to the bank

… by showing personalized messages based on a website visitor's behavior.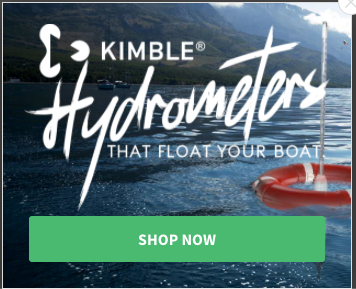 In simpler terms, pop-ups help companies make connections that matter. All they have to do is show the right messages to the right people. We decided to show Kimble Hydrometers on any page on Daigger's site related to hydrometers, period.

---
The Email

Whether you're trying to reach prospects, leads, or current customers, email marketing is an opportunity to speak to your customers directly. To be friendly. Close. Human.

Email marketing also gives you more space to say what you need to say, or in this case, show what you need to show. In the case of Kimble Hydrometers, our creative team got to highlight the design of Kimble's amazing product. Showing Daigger's audience how easy it is to use Kimble Hydrometers while giving them a bite-sized crash course on which hydrometer works best for your specific application is what made these emails ultra valuable, resulting in a high open rate of 14.8%.


---
The Social Posts

Our creative team had fun with these social posts. Nothing makes you stop mindlessly scrolling down your Facebook or LinkedIn feed in the middle of the day like a picture of a boat against a blue sky, or better yet, a glass of beer or wine. Oh, and they have hydrometers in them, of course!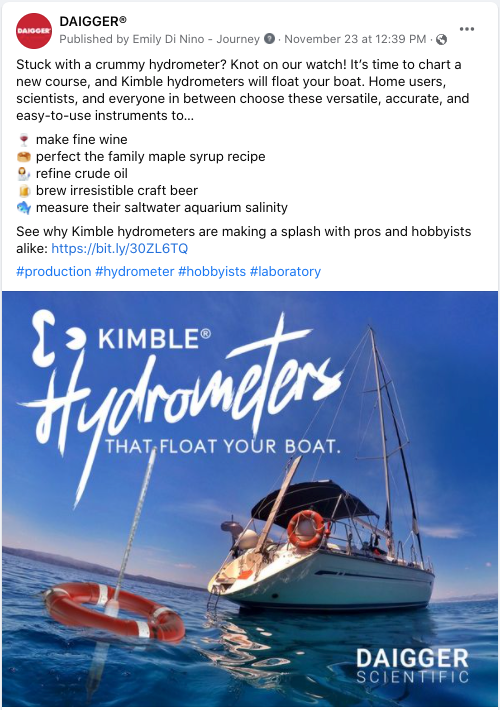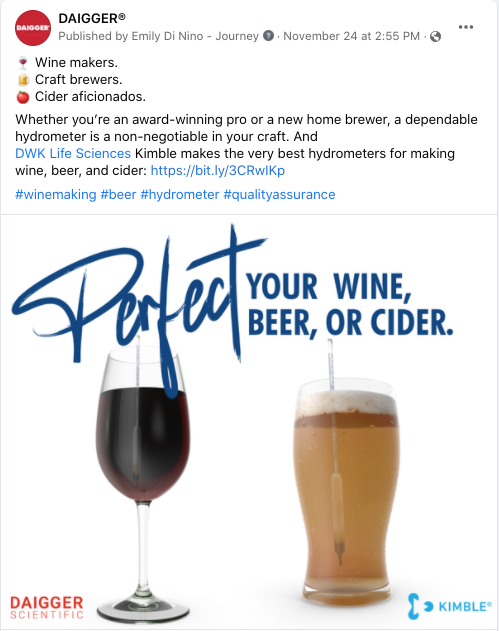 What's the main purpose of social posts anyway? We believe it's to help the right audiences see more of a brand or even a specific product. We know that social posts are just a gentle way to remind audiences that when they need lab equipment or hydrometers that'll float their boats, we've got their back.

The social posts for Kimble Hydrometers resulted in a whopping 80.2x impression rate! That means that compared to previous content, Daigger's audience saw this post 80.2x due to its higher engagement levels.

---
The Search Results

Have you ever searched for something, and wondered why the number one option comes up as number one on a website? Strategically placing products in a specific order is totally a thing. We ordered the results in a way that would make Kimble Hydrometers stand out from the other hydrometers in all the land.

We also used the search results as an opportunity to show off our fun and bouncy visuals again. That's the thing about good branding - visuals are not just nice images to look at with fun words to read. If a Daigger customer saw our Kimble Hydrometer graphics in an email earlier in the week and didn't act on it, they're now reminded of how cool they thought it was the first time they saw it, likely prompting real action.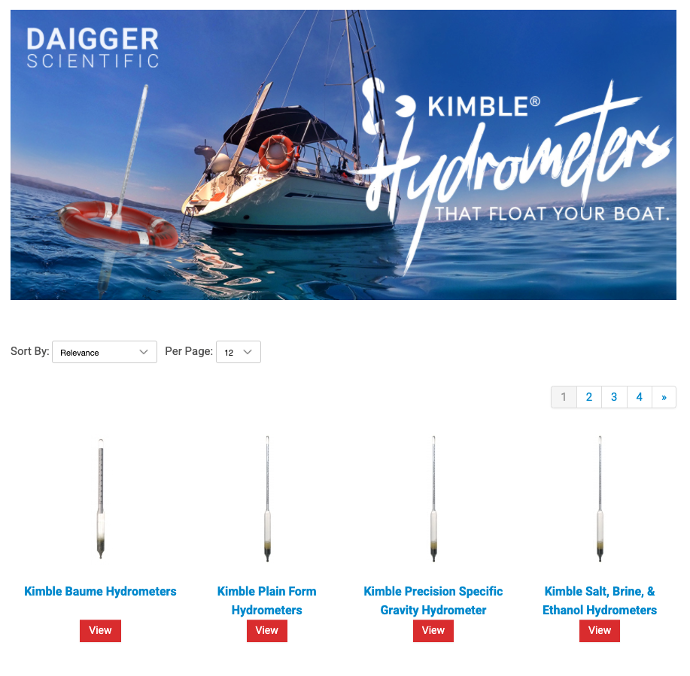 ---
The Blog Post

Our editorial team wrote "Find the Right Hydrometer for Your Profession (or Passion)," a comprehensive crash course on how Kimble Hydrometers can simplify measuring processes in labs, kitchens, tool sheds, or basements. It's comprehensive. It answers all the important questions. And it's fun.

The goal of the blog post was to be educational. We wanted users to learn about hydrometers while also demonstrating what makes Kimble's Hydrometer offering unique.

Creating a blog post also helps us capture search results for all types of users, purchasers or not to increase the overall search value of the page, which all links back to the Kimble Hydrometer product page. By extension, we increase the value of the Kimble Hydrometer page so more users end up on the page over the medium and long term.

The blog post also set the perfect stage for interlinking. What's interlinking? It's when a page - any page - connects to another page using a URL. You can think of it like a spider web, slowly webbed together using various links.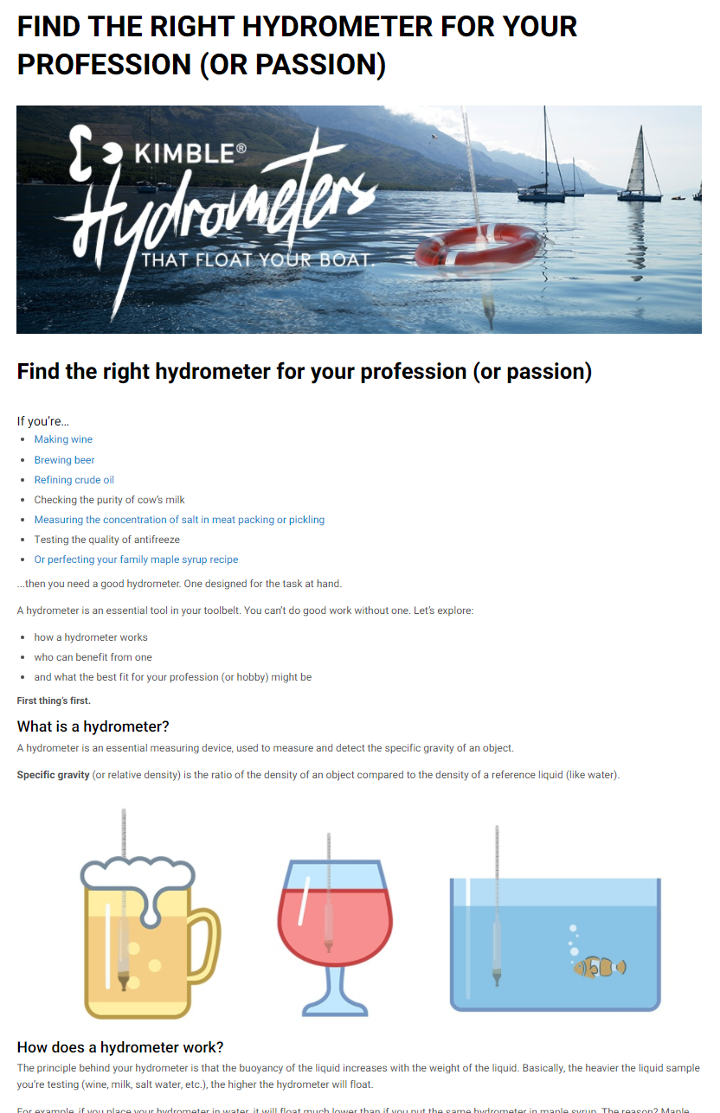 What does it accomplish? The more links a page receives, the more significant it appears to search engines. That means when laboratory managers search for hydrometers s on Google - boom! Kimble Hydrometers.

To maximize the chances of being seen and heard by the right audiences, we packed the content with keywords that hydrometer users would punch into Google, otherwise known as Search Engine Optimization (SEO).

---
The Category Leaderboard Banner

Here's the story in a chestnut shell: a leaderboard banner is a horizontal banner across the top of a webpage. Imagine a billboard along the highway. When website visitors first land on a webpage, the leaderboard banner is the first representation of a brand they usually see. Fill that space with something great, or lose your shot at captivating your audience.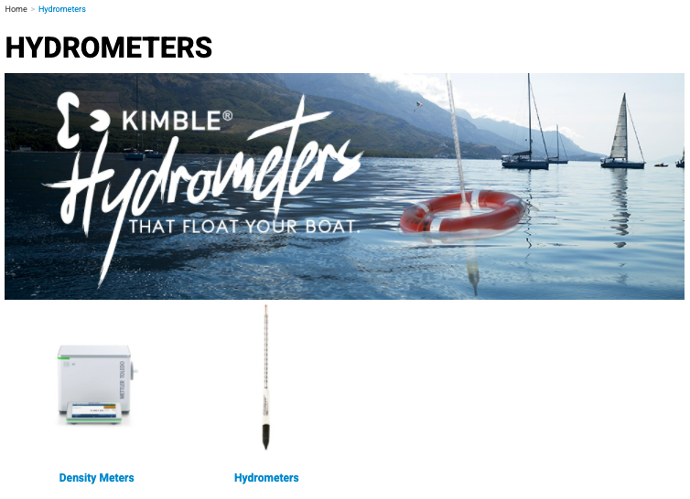 Depending on browser settings, not everyone sees pop-up messages. But we'd never abandon a boat because of a small water leak. Instead, we used our fun and bouncy visuals on the main category page to draw the most attention possible to Kimble's Hydrometers specifically. That way, anyone who comes looking for hydrometers knows that Kimble is the right option to float their boat.

Summary

During the campaign, 11,614 Daigger customers engaged with Kimble Hydrometer emails.

Pageviews of the hydrometers floated up to 709% from the usual rate of traffic.

And Kimble sold a barrel of Kimble Hydrometers to Daigger's audience, and the potential sales over the duration of the long-term assets count in the $millions.

And to achieve all this, we didn't revolutionize or change Kimble's product in any way, nor did we disrupt the natural habitat of Daigger's site. We simply highlighted what made Kimble Hydrometers special. Then we grew the magic with art. With words. With the elements of surprise that inspire lab professionals and hobbyists to invest in their tools, to invest in their craft, and to invest in themselves.