Introduction

If you're working in a lab and you look to your left, then to your right, chances are you see more than one piece of PYREX® lab glassware.

You use it constantly. Beakers and flasks, media bottles and petri dishes, test tubes and boiling flasks and drying trays. But if you're like most lab technicians or managers, you don't think about that glassware much. You use it, you clean it, and you move on.

You ignore the small chips, you don't see the microscopic fractures. Yes, PYREX® lab glassare is super durable and lasts a long time. But many labs use their glassware past the point when it should be replaced. And that's dangerous.

The challenge with this co-op marketing campaign was to get users and purchasers to think about their glassare more actively, and replace it earlier so it doesn't become a hazard in the lab. The byproduct of that better replacement schedule, of course, is an increase in sales (more regular purchases and a larger volume of purchases) for Corning Life Sciences and Daigger Scientific.

See how the campaign came together below, with an omnichannel approach delievered to a qualified and engaged audience everywhere that matters.

---
The Homepage

For the week of the omnichannel campaign promoting PYREX® lab glassware, Daigger's homepage banner was updated with brilliant and unique visual assets to catch visitors' attention and draw their attention to PYREX® product pages when they were likely visiting Daigger.com for another purpose.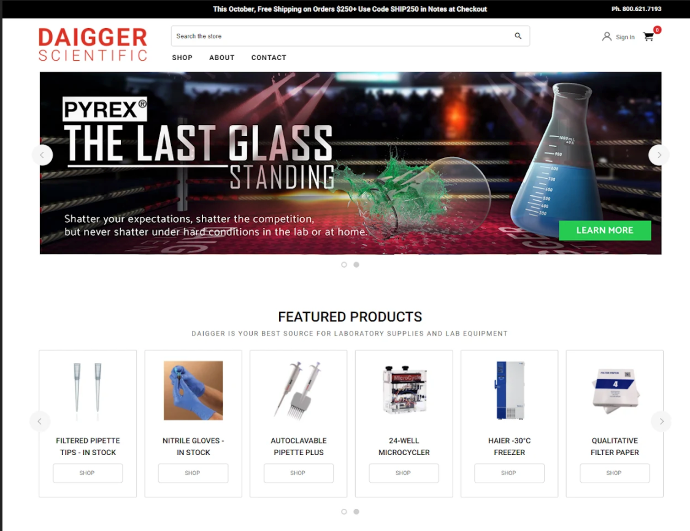 PYREX® being a comparably affordable expense for lab workers, the intention was to encourage users to add glassware to their main purchase, as an upsell (but a necessity as well).

---
The Pop-ups

Digital asserts were created for all relevant product pages to draw qualified users to PYREX® lab glassware product pages. All product pages related to beakers, bottles, jars, flasks, cylinders, etc, will feature these on-site pop-ups for 52 weeks, continuing to capture sales for Corning Life Sciences PYREX® over the long term, based on a single initial campaign investment.

Pop-ups are a conversion optimization tool that: 
Encourage customers who are almost ready to buy to take a lower commitment action and move toward a sale
Help businesses grow their email lists with engaged contacts
Generate leads to provide sales reps with a solid starting point for their outreach
Increase revenue so companies can laugh straight to the bank

… by showing personalized messages based on a website visitor's behavior.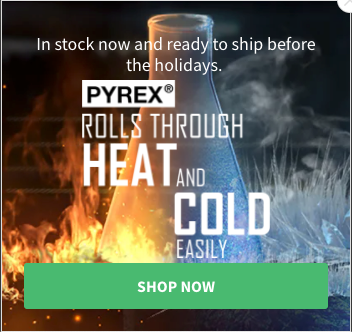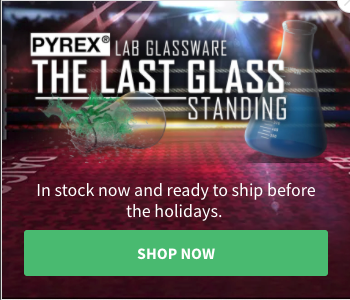 ---
The Email

The campaign was built around a single optimized email targeted to Daigger's most relevant mailing lists. The campaign messaging developed for the email became the basis for all design assets, so the campaign would be consistent across channels.

Unique sales propositions and calls to action that were most relevant to the audience ensured a high engagement rate, and translated to pain points users across the purchasing spectrum could relate to and want solved.


About 10,000 purchasers in the audience (1/4 of the total send) engaged with the email content. With more than 600 moving down the funnel toward an immediate purchase.

More than 100 users forwarded the email to coworkers who either requested quotes or stored the email for future purchases.

---
The Social Posts

To be a true omnichannel campaign, the message needs to carry across social media channels, so users see PYREX® at every opportunity. Using the unique imagery developed for the campaign, social posts appeared repeatedly in user news feeds on Facebook and LinkedIn over the first month of the campaign.This resulted in hundreds of impressions, brand recognition, and users reevaluating their purchase cycles for this endemic lab glassware.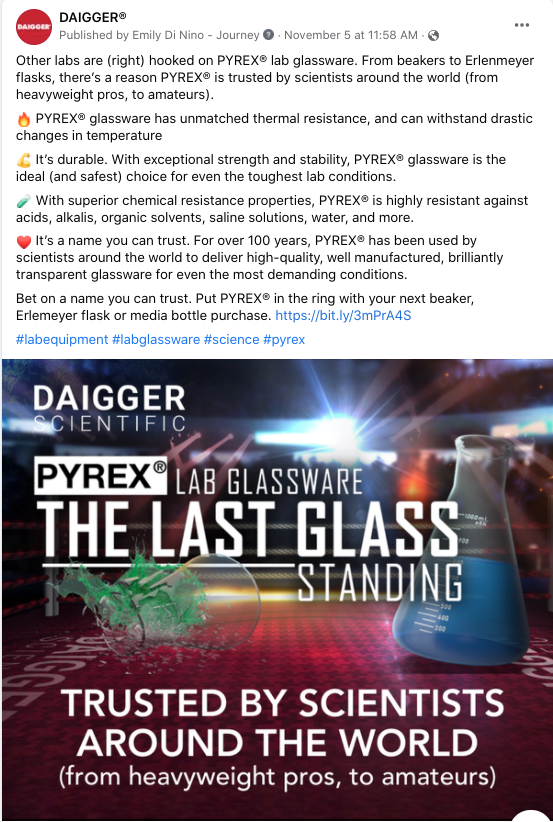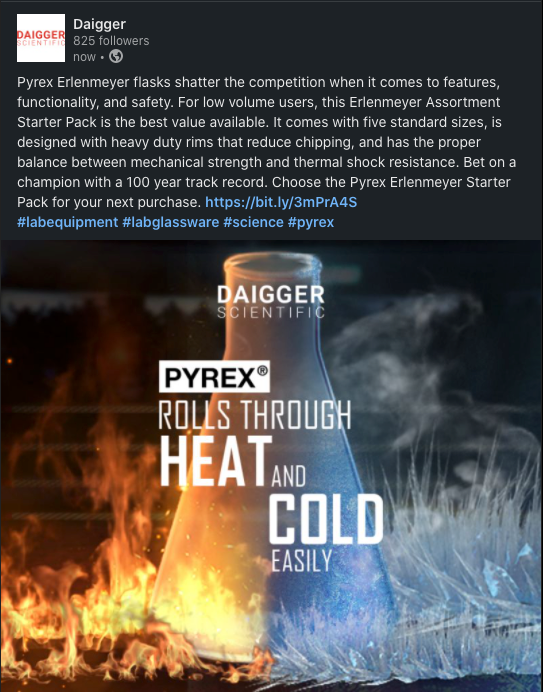 ---
The Search Results

The PYREX® lab glassware promoted in this campaign was moved to the top of the product category and site search results pages, and similar striking visuals were added to these high value pages to get users engaged in the campaign. These assets will stay active on these high value pages for the year, generating brand recognition, impressions, and drivign sales long after the most aggressive targeting of the campaign is complete.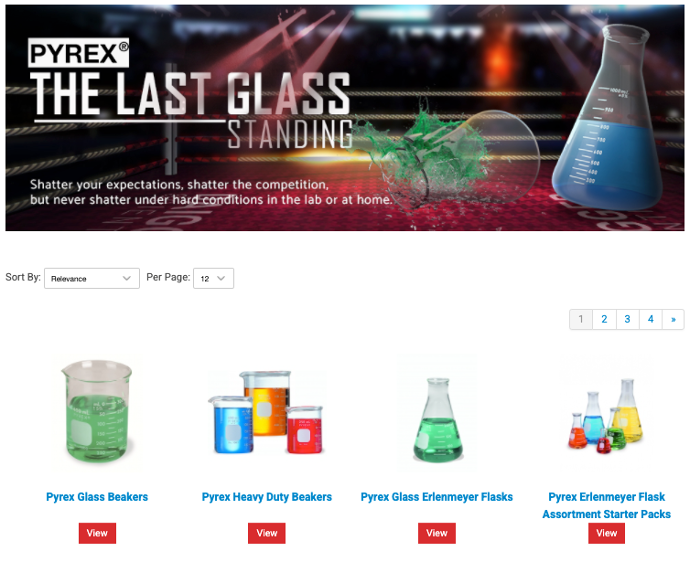 ---
The Blog Post

Search engine optimization is a long term game, but it can reap huge financial rewards. To give this campaign the best long term viability, we wrote a conversion rate optimized and search engine optimized blog that will rank highly for the most relevant and valuable search terms.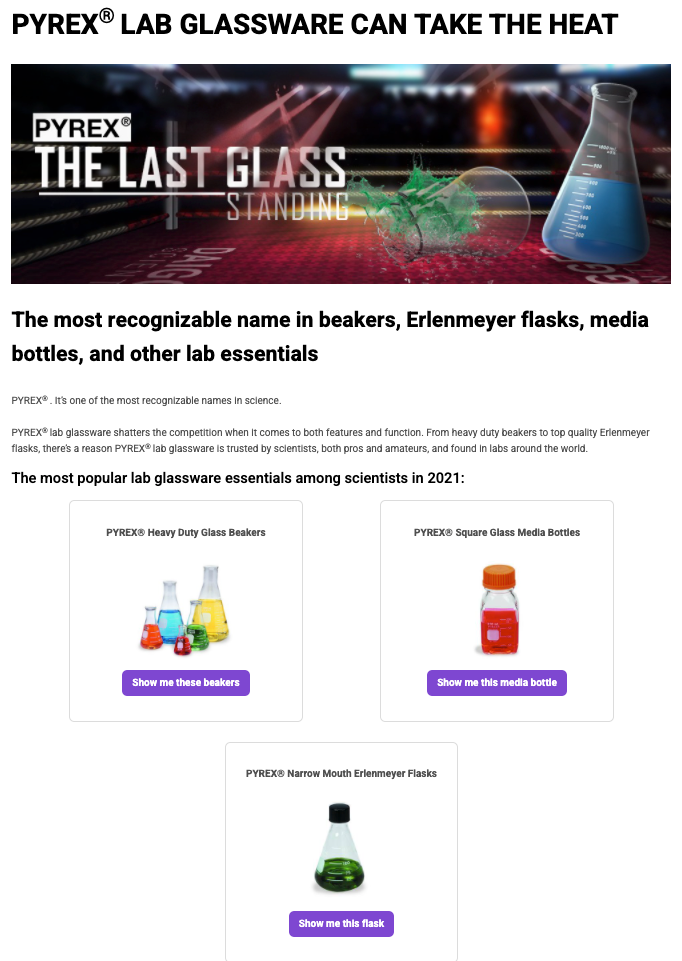 Using multiple tools for search engine optimization and conversion rate optimization, the long-form blog was written, designed, and linked to from Daigger Scientific's home page so it's easily found by users on the website and identified as relevant by search engine algorithms.

---
The Category Leaderboard Banner

Pop-up blockers aren't common, but they are used by some purchasers. To make sure those purchasers have every opportunity to be reminded of this campaign, a category leaderboard banner was designed and will be featured on the relevant product category page for a year.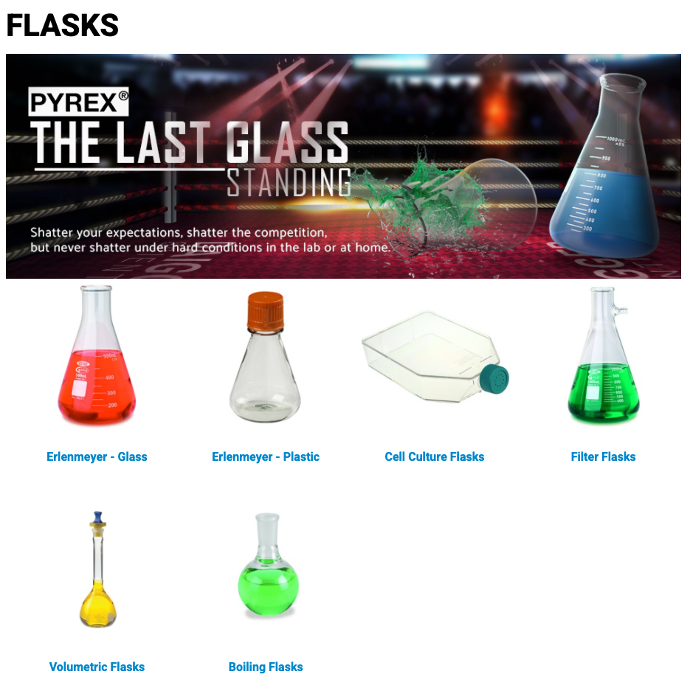 Any users who don't see the category or product page pop-ups will see the category leaderboard banner and the campaign will return to their top-of-mind.

Summary

This omnichannel campaign increased brand recognition, impressions, and (most importantly) sales of Corning Life Sciences PYREX® lab glassware in every category among Daigger's qualified audience. The sales spiked when the campaign launched with the most aggressive messaging, and traffic to PYREX® lab glassware pages at Daigger.com has maintained a steady increase with the help of the assets that remain in place for a month, and for a year.

By the time Corning's campaign is complete and the assets retired from Daigger.com at the end of the year, more than 100,000 purchasers will have seen and engaged with them in a location where those purchasers have already decided to do business. Those users are more likely to purchase at Daigger.com than anywhere else. Aside from Corning's own marketing audience, there is no more qualified a group to reach than this.